Looking for a great gift for cat lovers? Look no further, we've got it all here for you and we've separated our guide into sections based on the type of person you're buying for.
Make sure you signup to to receive 10% off your first tuft + paw order.
In this guide, we're going suggest a wide range of gifts for every type of person. Such as the traditional kip cat bed by tuft and paw or the more edgy cat phone case by Lord Nermal.
Few things in life inspire more joy in a cat lover than a unique cat-themed gift that they'll actually use and enjoy every day. We get it - not everyone is ready to splurge on our designer cat furniture, though we do have some gifts right up a cat lovers ally. That's why we've put together this list of unique gift ideas for different types of people:
Homeowners
Gifts for Cats
For That Special Someone
Quirky People
Office Friends
Travelers
Everyday Cat Lover
Tech Savvy People
Wine Lovers
Kids (or the kid inside us)
For Homeowners:
Bring your unique sense of style to life with some cat home accessories. These gifts are a great housewarming gift, or perfect for yourself! Make sure every room in the home has a little cattitude. 
Cove: The Modern Litter Box 
Before moving on with the rest of the list, we wanted to share an endorsement for our brand new Cove litter box. 
Cove is a simple, beautiful litter box with an integrated scoop, dustpan, and handbrush. Built by designers, engineers, and cat behaviorists and made from recycled plastics that are completely toxin-free.
Visit the Cove page for more details on how you can get your hands on one. Pairs perfectly with Really Great Cat Litter.
More details can be found here > OR checkout our guide to the best litter boxes of 2023 (so far) because a good litter box is a great gift
1. Cat Pillow Case Set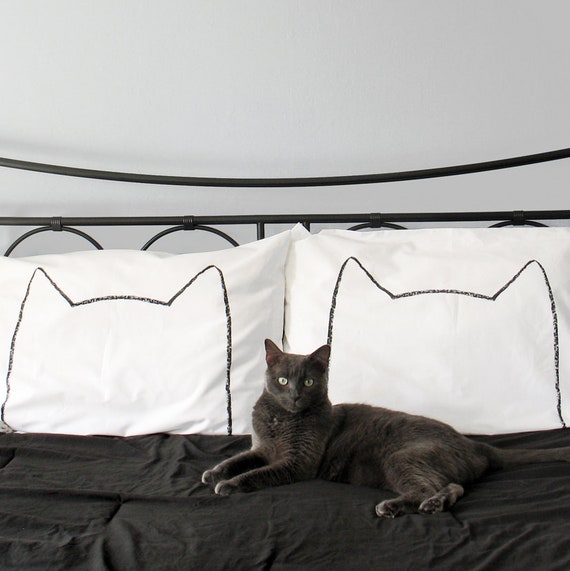 Making the most comfortable sleeping place is the ultimate goal. These soft pillow cases feature a minimalist cat ear design that will fit in with any style. It celebrates a love for cats, but in a simple and stylish way. For a unique gift that will for sure be used, these pillowcases are great for the cat lover homeowner.
2. Cat Themed Welcome Mat
Most cats aren't known for welcoming guests at the door. In case your friend's cat is known to hide as the doorbell rings, offer them this cat gift that greets guests instead. With a cute cat face and a colorful design, it's the perfect way to welcome guests at the door.
3. Cat Shower Curtain
A cat-themed shower curtain will put a smile on anyone's face and adds a pop of colour to the bathroom. If you're looking for a cat-themed bathroom makeover, start with the shower curtain for a bold statement.
4. Cat Bag Sealer
A perfect housewarming gift that's not too overwhelming. They'll keep snacks and dry foodstuffs fresh and crunchy (or perfect for holding cat treats). They can even be used to seal up the cat food bag, which kitty will appreciate!
5. The Best Cat Litter They'll Ever Use
This litter is an absolute game changer for any cat owner. A flushable litter that does not track. No more dirty garbage bags beside the toilet, you can flush this straight down the toilet.
(edit: after publishing we found some more hilarious mugs below)
Let's be honest, cats have always been fierce. They totally rock the squint-face. Raise a paw, or a glass, to their fierceness with a coffee mug. Perfect for a morning cup of coffee, enhance your early-rise routine with this mug.
Ride out a bad day with your favorite tea in your new favorite mug. This mug has plenty of cattitude and features two cute cats on the front. Show a bit of your feisty side with this mug.
Cat's are notorious for presenting their "tails" when you least want it. But hey, call it a gift. This fun mug features a cat's favorite pose.
6. Kip Cat Bed
It's no secret that cats love to relax and snooze in comfy spaces. One of our most popular items, this cat bed is the perfect spot for your cat to spy and relax. If you don't see them around, check the Kip, they're probably busy purring.
For Your Little Buddy
Hey, what's a cat themed gift guide without some gifts for the cat in your life? We don't want to brag, but we got some purrfect products for the four-legged friend in your life. From sleeping to play, and all the wild times in between, we have a few gifts for your kitty.
7. Puff Bed
Keep your furry friend nice and cozy in this cute cat bed. It's a perfectly contoured bed for the cat that loves to sit where they fit and hunker down in boxes. 
7. Little Dip Bowl
An elegant dish for refined cats. The shallow, wide design offers comfortable dining and a pleasing presentation, appearing to gently float atop its base.
8. Fancy Cat Collar
Hollywood awaits the stylish cat with a sophisticated cat collar. This cat collar has a breakaway design to keep cats safe. Plus the tiny bell lets you hear your cat as they trot down the hall to cuddle.
9. Stylish Cat Toys
Cats love to play and they have a knack for demolishing toys. These toys are made from high quality materials and makes for a good time to toss around on a boring day.
10. Frond Cat Tree
Climb, scratch, and perch on this durable cat tree! There are lots of amazing cat trees to choose from, but this is one of our favorites. Cats typically love finding a spot off the ground to hang out and watch their humans. Alternatively, you can check out our guide to the best scratching posts if you want something a bit smaller.
11. A Cat Perch
Give your little buddy the gift of a perfect vantage point to spy and scheme while preventing unwanted loitering on the kitchen counter.
For A Special Someone:
Cat themed gifts are a fun way to show someone you care. If you have a special someone in your life who loves cat, check out these adorable gifts that are sure to please.
12. Stylish Cat Shirt
A cat-faced t-shirt pairs well with almost any look and is sure to put a smile on her face.
For a casual and cute look that celebrates what she loves most, cats (and hey, maybe you!), this t-shirt is great for everyday wear.
13. Cat Earrings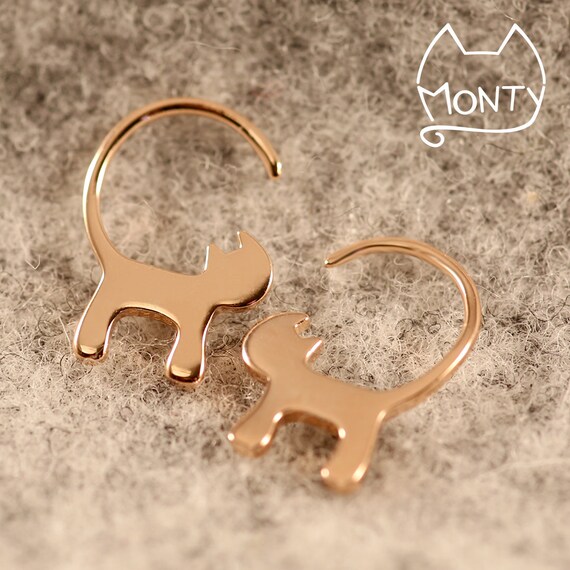 These cats are hanging on by a tail! This simple design is sophisticated enough for any earring wearer, whether they put them on for evening, work, or just for every day. These silver-plated earrings make for one sweet gift.
14. "Cat Dad" T Shirt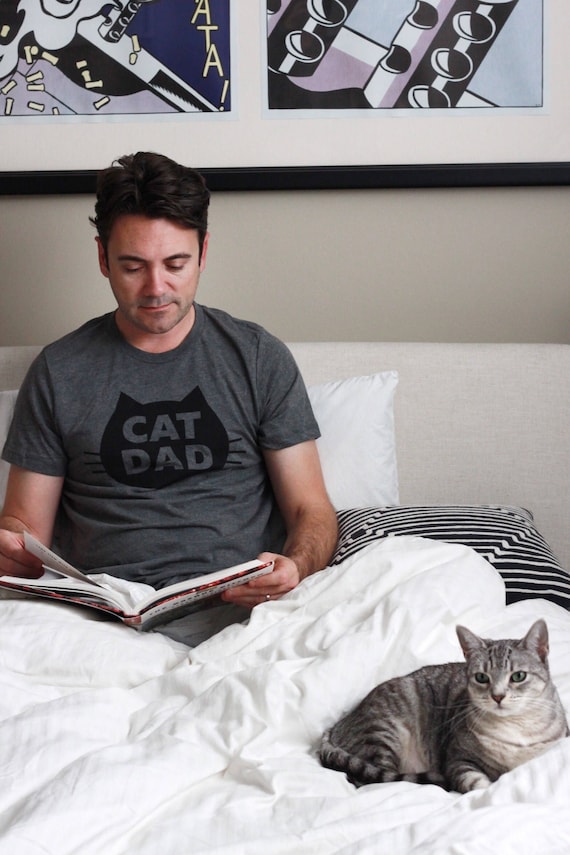 We may be biased, but we think cat dads are awesome! Got a cat dad in your life? Treat them with a cool screen-printed cat t-shirt.
There seems to be a growing number of self proclaimed "cat dads", and we think that's wonderful. Now if we can only identify these men to talk about our own cats, that'd be great. Hey, maybe a t-shirt would do it?
15. Shutterfly Photo Book
A certain special someone will love a photobook of all their favorite memories with their beloved pet. It's so easy to grab instagram photos and phone pictures to make the cutest photobook.
Shutterfly has several designs to choose from, so take your pick! There's even one with paw prints.
For the Quirky Friend:
For the friend that loves to stand out and isn't afraid to rock a lumpy cat sweater, these gifts are sure to impress! They're cute, fun, and of course, a little quirky. Take a look at some truly unique cat lover gifts.
16. Butt Out Magnets
Get a conversation started by pinning up your reminders with these cheeky cat butt magnets. After all, their fluffy tales are cute and irresistible! Perfect for a friend with a wicked sense of humor.
14. Because… Ziggy Stardust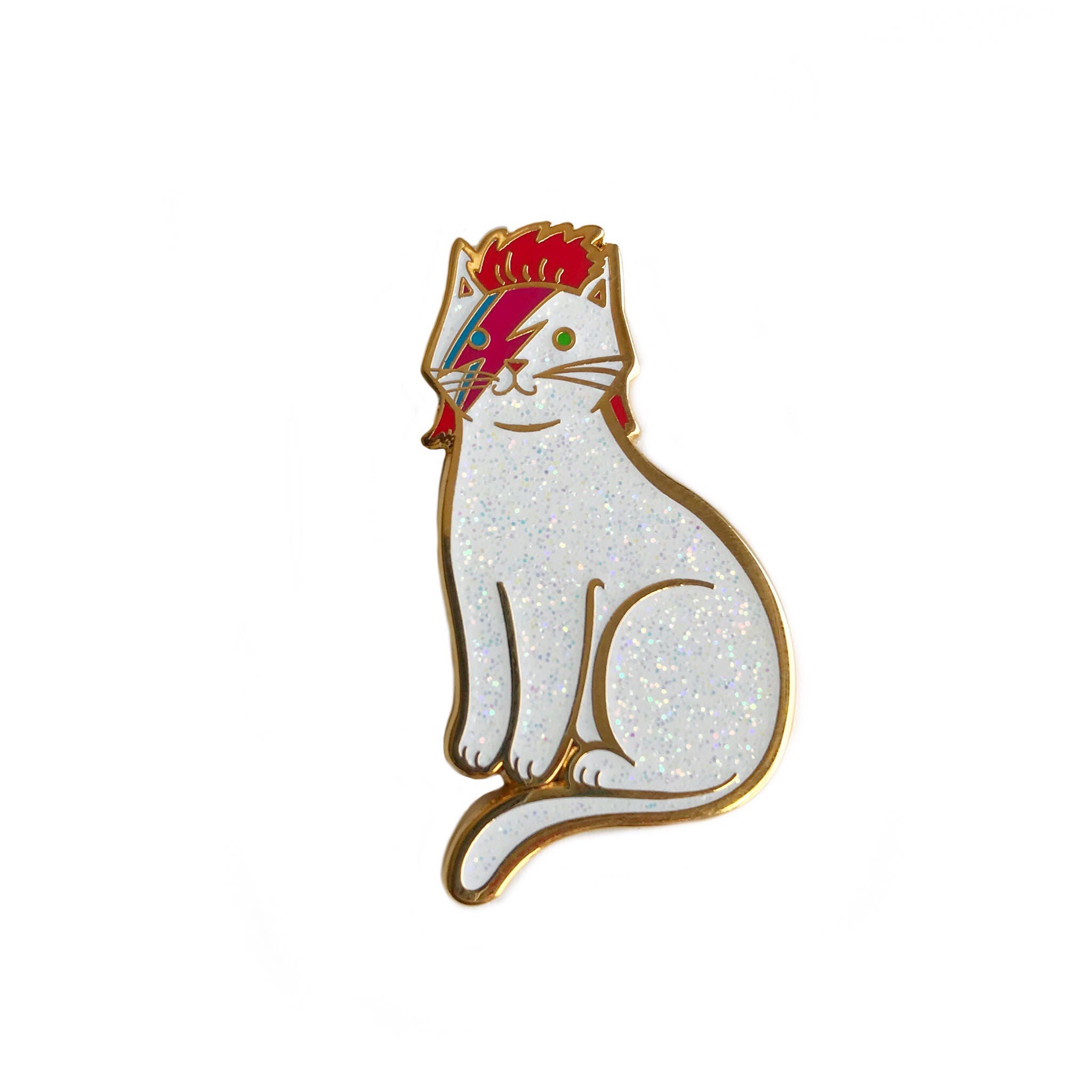 As a gift for those friends who love dressing up almost as much as they love cats, consider a lapel pin. Cat versions of favorite idols are always a big hit.
15. Fingering Cat Iphone Case
Show some cattitude with this saucy iPhone cover that'll show the world exactly how you feel with its double zap signs. Who said you have to always play nice? This cat doesn't.
16. Cat Candle
A little modern and a little goth, this angular grey cat candle melts to reveal a metal cat skeleton. For a candle that's just as cozy as it can be spooky, this unique gift is perfect for that witchy cat lover.
Cat lovers everywhere can come home and create a cozy atmosphere with these cat candles and wait for the second surprise to emerge.
17. Cat Headphones
Ariana Grande might have stopped wearing cat ears, but that doesn't mean they're so last year. Just look at cats, those cute ears are always in style.
This set of gleaming metal ears decorates your head like a cat-eared headband. Comfortable and simple, and yes, just a little cute.
For The Office:
An office doesn't have to be boring or stuffy. Cattify office work by getting a few office supplies that bring a little more joy to an office desk. Cat office supplies are a great way to have fun while at work.
17. Doodle Stress Relief
This cat sketch pat will help to unleash some pent up creativity, releasing a dose of oxytocin comparable to that produced when petting a cat. So take a break from office work and do some doodling.
18. Coffee, Tea or Kitty Mug
Every cat lover needs their own office mug. Keep your cat at the office with this ultra cute coffee mug that features a cute cat face and ears. Just be careful, this mug is so cute your office mate might swipe it for themselves!
19. Kawaii Cat Mini Planner Notebook
Help your friend keep their work life separate and organized with their very own work planner. This work planner is small enough to fit into any bag or purse and offers a clean, minimalist design. With fun colors and a simple design, this planner can make anyone's work more fun.
20. Cat Business Card Holder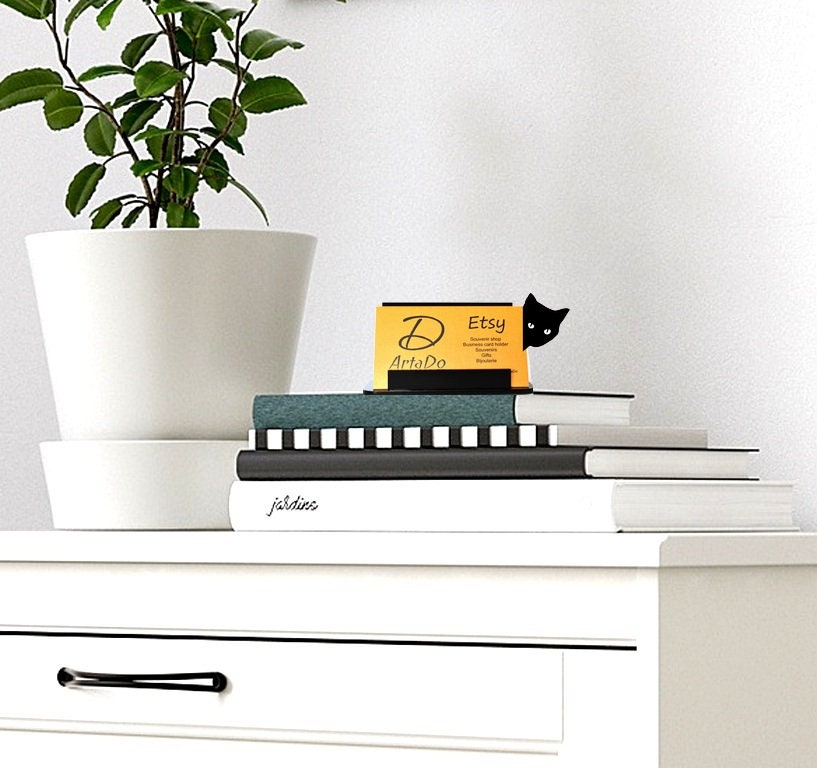 This simple gift would be great for a friend or coworker that has some business cards that need to be displayed. This small metal design features a cute black cat peeking around the corner of business cards. What better way to entice people to take a card!
21. Cat Ears Waterproof Pencil Case
Got pens, pencils, and highlighters? This case can hold them all. Pack in all your office supplies in a cute cat case that keeps them safe and sound. Who needs ink stains in your bag or on your notebooks? Contain any accidents in a waterproof pencil case instead.
For Travelers:
Looking for great gifts for cat lovers on the go? Look no further! These gifts are purfect for the cat lover that also loves to travel. Who says you have to leave your cat at home when you're on the go?
22. Insta Cat Celebrity Meet and Greet
The ultimate VIP experience, buy your friend tickets to meet a famous cat instagram celebrity. Many cat tradeshows travel around the country and you can pre-book tickets to give as a gift.
23. Rain Rain Go Away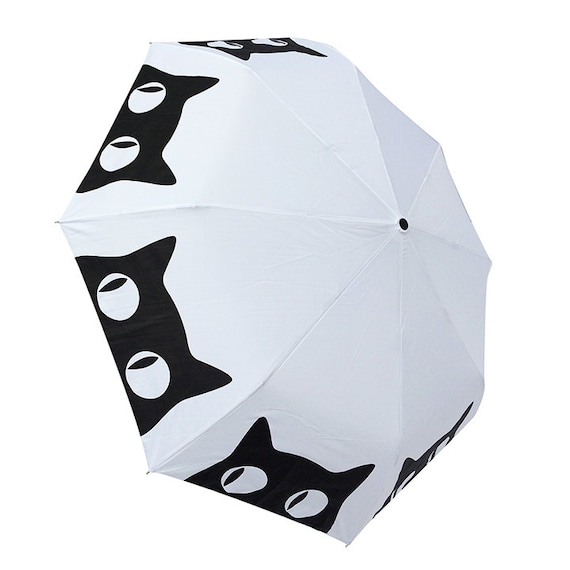 This compact umbrella fits neatly into a backpack or purse. It has an adorable cartoon cat peeking up and looking out for the rain droplets. This is one rare instance where the cat gets wet and not you.
24. Coffee To Go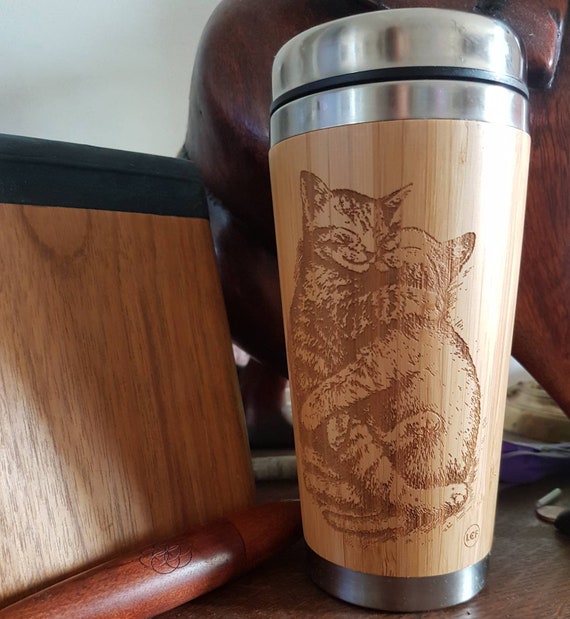 Warm kitties and warm coffee goes together like… well warm cats and coffee. This laser-etched bamboo coffee mug is the perfect way to get coffee on the go. Hop into the car and know you'll stay awake for your next destination with a some still-hot coffee.
25. Stay Hydrated
Staying hydrated is important. Staying hydrated while looking stylish is even better. Water bottles are now a commonplace accessory, so why not gift one to a person with a unique sense of style and a love for cats?
24. Cat Ears and Whiskers Backpack
Nothing is worse than having to squeeze out of seats on a plane to get to your bag in the compartment above! This small backpack is perfect for all travel essentials and can be stashed under the seat with room to spare.
Your friend will appreciate having a cute cat backpack to stow their essentials in while traveling.
25. Beautiful Cat Bookmark
There's nothing better than reading a good book on a plane. The downside is that cats aren't there to cuddle with. For those days a cat bookmark might be in order.
This company produces hand-carved bookmarks out of pure silver, engraved with an image of your choice, such as your gift-recipient's cat. A great gift for a book lover, traveler, and a cat lover.
For the Everyday Cat Lover:
If you or a friend enjoy the little quiet moments in everyday life, this cat gift section is made for you. After all, what's better than a cat themed object that you actually use every day? Maybe the things you use the most just need a little cattitude.
26. Cat Planter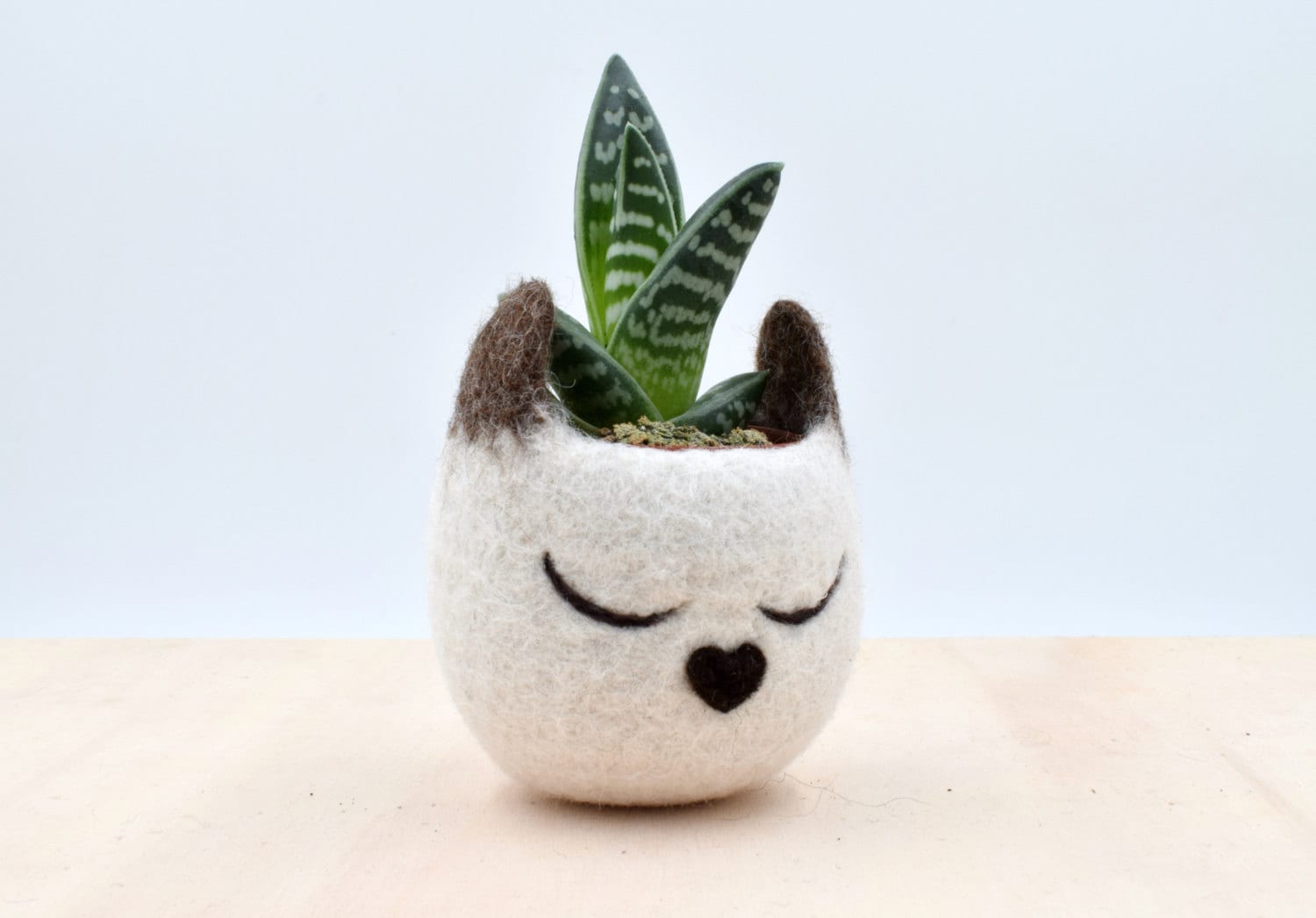 A tiny succulent can only get cuter in a tiny wool cat planter. With a neutral colour pallet and soft texture, this unique gift is perfect for adding a little indoor gardening to any home.  
This tiny felt cat-faced plant holder is handmade in Italy. A wool cozy dresses up a collection of succulents in warmth and style.
27. Cat String Lights
String lights are the perfect way to add atmosphere and ambiance in a home. Make the atmosphere a little more cuter with these adorable cat string lights.
These string lights are everything a cat lover could want on a cold winter night. They're also just a cute accent to dress up a room any time of the year. String them above a bed or in a doorway for a quirky accent and cute lighting.
28. Cat-Shaped Tea Bags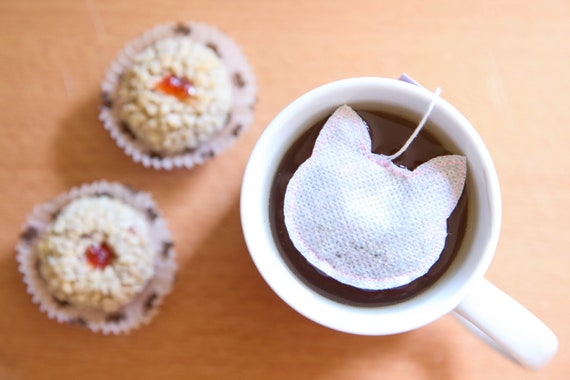 As avid tea drinkers, we highly endorse the use of cat-shaped tea bags. Not only are they adorable, but they also brew a nice cup of tea. Unless your tea drinking friend is hoping to read some leaves, get them the gift of a cute cup of tea.
Little cat ears bobbing in a teacup is a great way to wind down for the day. This is a unique cat gift you won't want to turn down.
29. Purring Cat Tea Towel
One can never have enough tea towels, nor purrs. Listen up! These tea towels have screen-printed black lines taken from an electronic readout of a cat's purr.
There is nothing more comforting than a cat's purr and now this cat gift keeps the purr in your kitchen. Stir some milk and imagine your furry best friend purring away, waiting for a little taste.
30. Cat-Themed Soap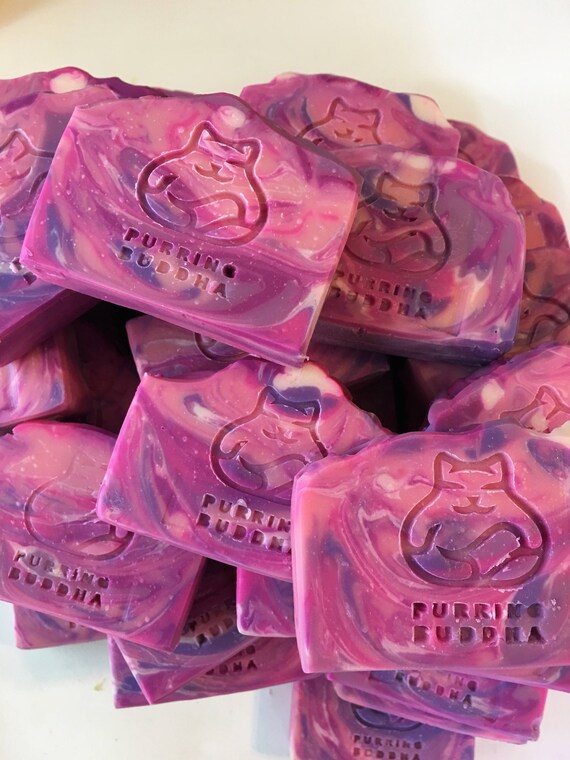 Everyone gets clean, and we can bet your friend does too!
A great choice for eco-conscious friends, these cat-themed vegan soap bars are made of natural ingredients like organic coconut oil and organic fair trade shea and cocoa butter. Plus they all have a cute little cat wrapper.
31. Wonder Womeow Cat T-Shirt
The cross-over your friend didn't know they needed in their life: Wonder Womeow.
Arguably one of the bigger superhero movies in the last few years, jump on this trend with your very own Made in USA Wonder Womeow t-shirt. For the cat-loving superhero in your life.
32. A Roomba
This thing will change any cat owner's life if you can afford the $700+ price tag. No more tufts of fur floating around aimlessly. You can schedule automatic cleanings during the day so that you come home to a hair-free house at night.
Pro-tip: we found a brand new one on Craig's List for half price (someone won it as a prize and had no need for it).
For The Tech Savvy:
We know a few tech lovers in our lives that are more than ready to dress up their tech with some fun cat hardware. Luckily, there's more than a few ways to dress up your tech in cattitude. Here are some options!
33. Keep An Eye on Your Pet
Petcube's remote wireless pet monitoring system not only keeps an eye on your cat's behaviours but also dispenses treats on command. You'll finally be able to tell if your cat is the one responsible for your houseplant dying (it's a yes).
If you've got a cat owner in your life wanting to know if their cat spends all day sleeping or all day partying, this unique gift will provide them the answer.
34. Cat Paw Flash Drive
This flash drive comes in a cute cat paw case and doubles as a keychain. Flash drives are easily lost, but this flash drive has just enough character to not go missing in a car or bag. In fact, just attach it to a keychain or backpack and it's ready to go.
The cat paw is a great gift for the on-the-go techie that could always use a new flash drive.
35. iPhone 7 Phone Case
A person's cell phone is possibly the most important technology they keep on their body. Offer up some cute protection with a cat-themed cell phone case! This case is soft, but offers 360 protection from drops.
Even better, this case has cute cat ears and whiskers. If you listen close enough, you might even hear some purrs.
36. World Domination for Cats Laptop Sleeve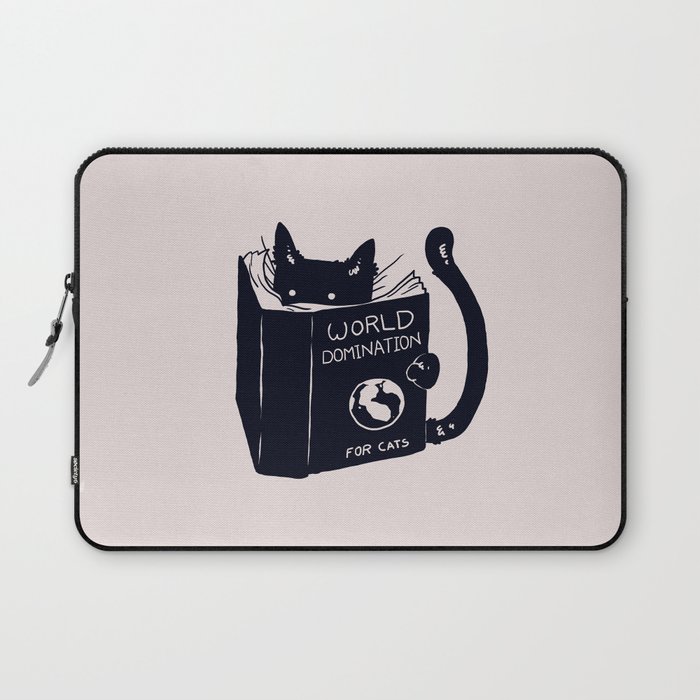 We all know that cats are just plotting to take over the world. After all, we see them hiding out all over the house and low-key stalking us constantly. Remind the world of cats' plans with this world domination laptop sleeve.
This cat gift is great for every laptop user and will protect the laptop inside backpacks and cases.
36. Crazy Cat Ipad Case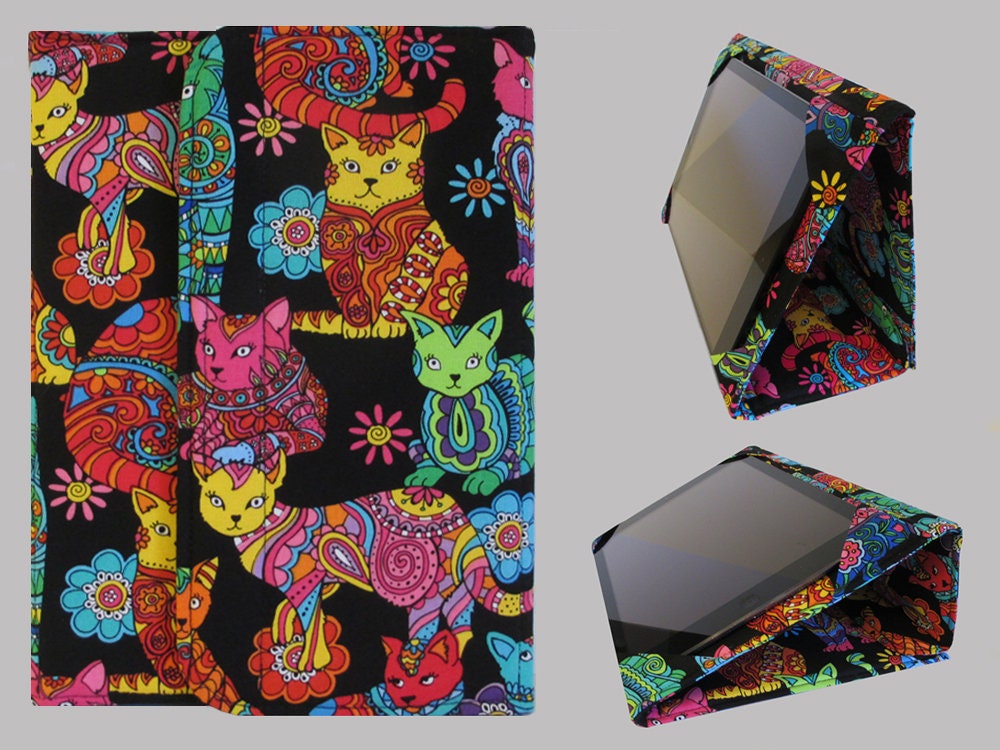 Can you say Salvador Dali? This cat gift can seem a little crazy with its bold pattern and even bolder colors. However, this unique gift is great for iPad users. It works as both protection and as an iPad stand.
Plus, these cats look bright and bold and ready to make a statement.
For the Wine Lover:
We all know at least one wine lover that has a cat. Though cats can't drink wine, you can deck out your wine accessories with a few special cat themed gifts. Just take a look!
37. Hug That Bottle
Okay, there's probably never too much wine, but if you have a friend who always keeps a few bottles on the counter, these quirky wine bottle holders will keep their bottles tidy.
Imagine if cats liked wine.
38. Plug It!
Let's get back to that one friend. You know, the one with all the wine? Nothing is more disappointing than wine gone sour. Continue catifying their wine bottles with this sweet silicone cat wine stopper. This unique cat gift is a simple way to show a friend you know they love cats and wine.
39. Cat Coasters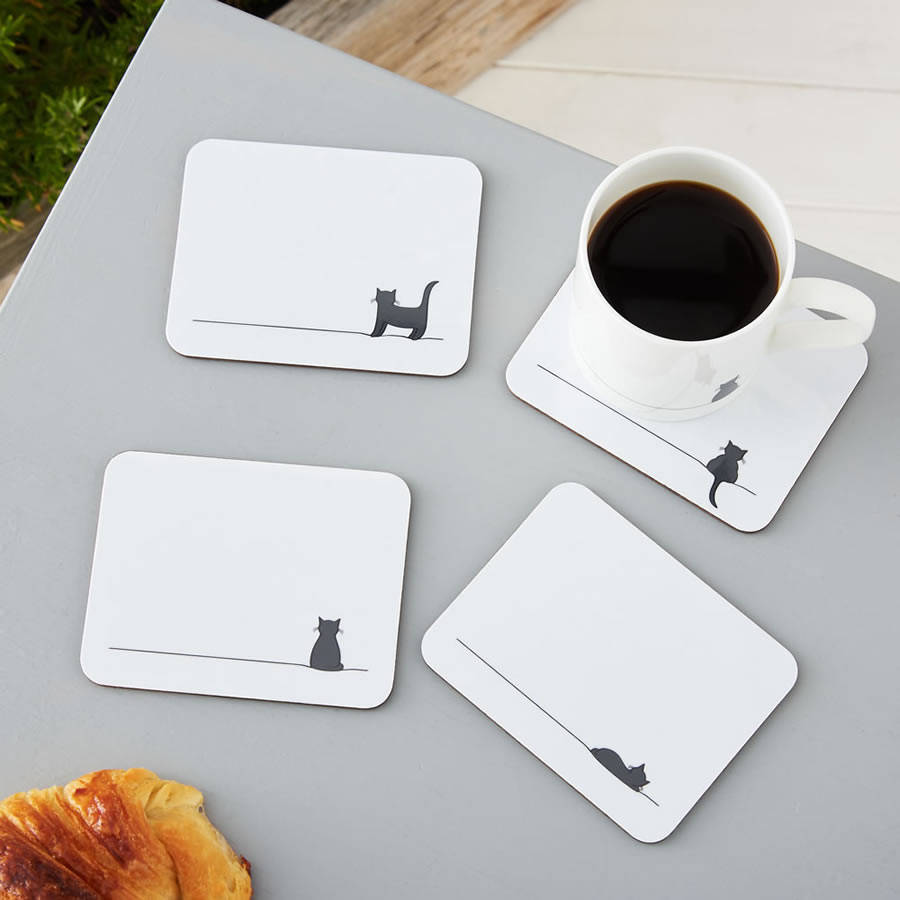 Enough with the mismatched cardboard coasters that wrinkle up with every dripping drink. A thick, well-made cat coaster, like the ones above, are sure to fit a cat lovers style.
This might be the perfect practical cat-related gift, and works well as a housewarming present, or just a little something-something for a friend. Bright simple colours like these go with just about anyone's home style. They'll protect your surfaces with a dash of cat cuteness.
40. More Wine Right Meow Glasses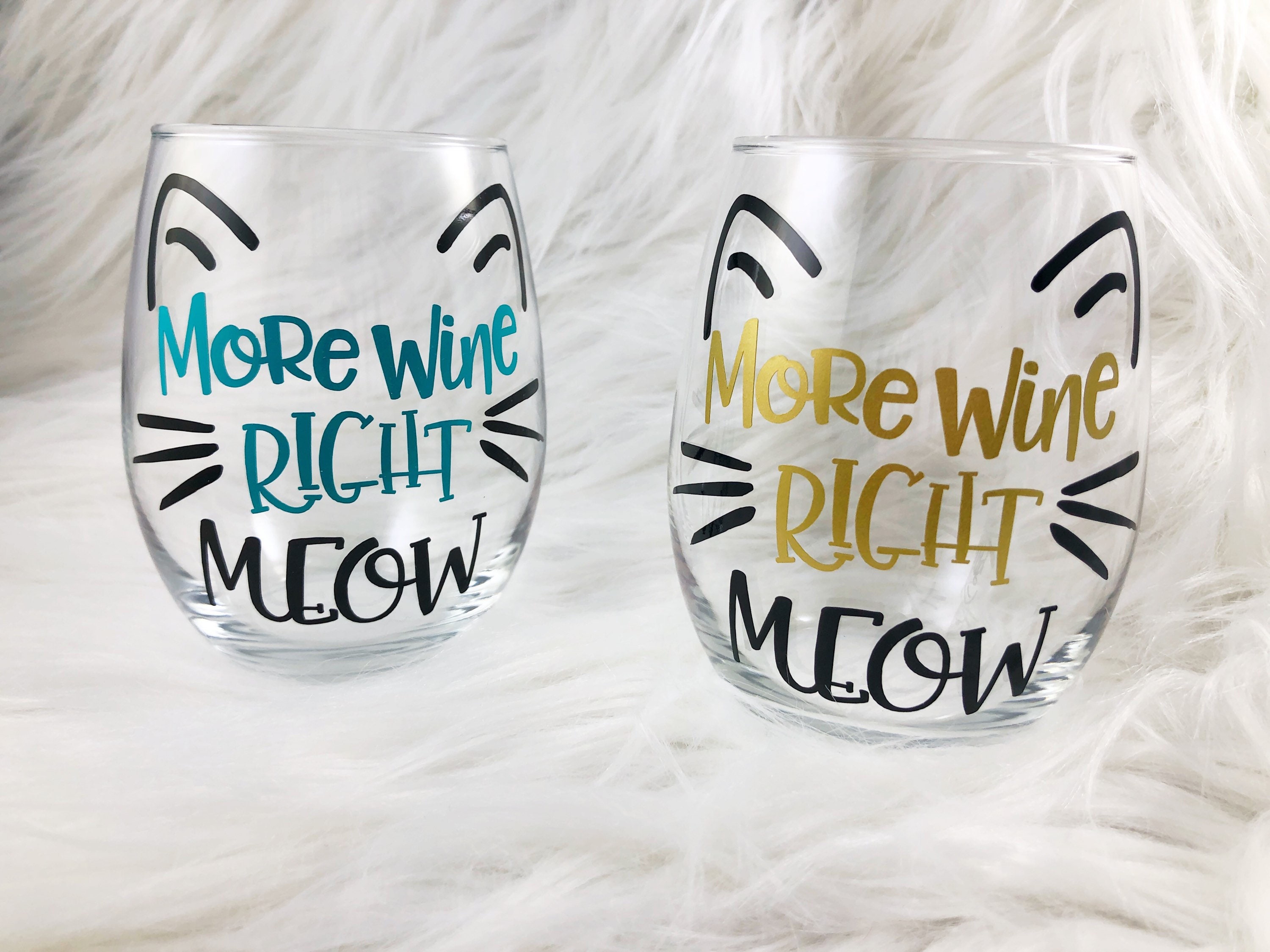 You can't suggest wine gifts without finding a cat wine glass. After all, there's nothing better than hanging out with your cat and drinking wine while watching your favorite movie. When your glass is empty, be sure to ask for more wine right meow with your wine glass.
This fun wine glass is great for fun parties with friends, or just hanging out with your furry friends.
41. Sleeping Cat Wine Marker
This unique gift is great for the wine drinker that likes to party with fellow wine lovers. Mark wine glasses with colorful, curled up kitties. These cats will keep people from sipping from the wrong glass.
They're also the type of cats that don't knock over wine glasses, so that's a plus.
Playful Gifts
Kids of all ages love carrying around their favorite cat. Unfortunately, some cats don't like to be carried by kids! Remedy that situation by getting a few kid-friendly, cat themed gifts for the young person in your life.
42. Sticky Notes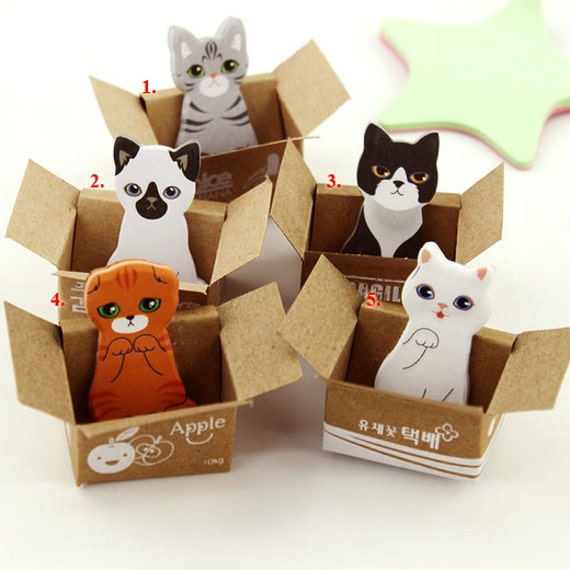 Remember the days of passing notes to friends? This gift is perfect for older kids. These sticky notes are great for keeping place in books, writing notes, and studying. If you know a young cat lover hitting the books, this is a cute gift for them.
43. Cat Crazy Old Maid
Cat collecting games have been a big hit lately, and Cat Crazy Old Maid is a fun spin off an old classic. Grab a deck to play with a friend! Hey, you can't collect every cat you see, but you can collect cat card games, right?
44. Baker Bliss
Kids who love baking will adore this rolling pin that stamps cat shapes into the dough. Whether they're making pies, cookies, or rolling icing sheets for a cake – this will be sure to impress. We assure you the venn diagram of kids who love sweet treats and cats is a big, round circle.
45. Tuxedo Cat Pop Up Card
A simple, but special way to say happy birthday, or congratulations, is with a card. This card is far from simple and features a 3D pop up design of a cat. We assure you, this isn't the card that'll end up in the trash after the party, it's sure to stick around long after the balloons are gone.
46. Pretty Floral Cat Backpack
Cats meet Frida Kahlo meets flowers with this cute backpack. Kids can go to school in flower power style with this backpack. It's perfect for holding all their school accessories, plus more.
With several different floral cat designs, this unique gift is sure to please a young cat lover.
We've left the last 5 spots open on our list so that we can update it with new suggestions from the comments. We hope this has helped you find the perfect gift. Did we miss anything? Let us know in the comments (we're always updating).
*Update: new gift ideas submitted by our readers below*
47. Funny Cat Butt Bookmark
Every reader needs a cute bookmark to hold their place. This bookmark is a cat with long legs and a long tail helpfully marking your chapter. This silicone bookmark can stretch around the thickest of books and the cat's feet mark the exact spot you left off.
48. Catnip Bath Wipes
We've all been there... Your cat's hair is getting a little long and the unthinkable happens after a meal that doesn't sit well. These wipes will save you a huge mess and hassle.
p.s. Have you tried Really Great Cat Litter? Our flushable formula is 99% dust-free, low tracking, ultra absorbent, clumping, and eliminates odor on the spot.