The Modern Litter Box - $129

A simple, beautiful litter box with an integrated scoop, dustpan, and handbrush. Built by designers, engineers, and cat behaviorists and made from recycled plastics that are completely toxin-free.
Double-walled, thick matte plastic looks and feels sturdy while a smooth interior is extremely easy to clean. Rubberized bottom firmly plants the box to the floor. Cove's scoop is designed to sift faster and slide easily through coarse litter without much effort. The dustpan and handbrush allow for quick, easy tidying around the litter box.
Outer dimensions: 24" long x 16" wide x 6" tall. Inner basin dimensions: 20" long x 14" wide. More than enough room for cats to take care of their business without being unnecessarily large (we based these dimensions off research with our cat behaviorist). If your cat is a high pee-er or active digger, we also have the Shelter wall extender add-on for $19 which will increase the wall height to 14" without obstructing your cat's view (cats don't like enclosed boxes).
Cove Price: $129 (6" wall height, November Delivery, while supplies last)
Cove + Shelter Wall Extender Add-on Price: $149 (14" wall height, November Delivery, while supplies last)
Cove is a beautiful litter box you don't need to hide.
---
Cove includes a beautiful scoop, dustpan, and handbrush in an integrated compartment to keep things clean and tidy.
---
Designed by a team of cat loving furniture experts, you'll be delighted at all the small design details we obsessed over. The rubbery base keeps the box firmly rooted to the floor, the hidden handle on the bottom makes it easy to move, and the thick matte plastic gives a sturdy and quality feel.
---
Cove was designed with simple lines and curves which make it super easy to wipe and clean. The tools go into a removable insert which can easily be rinsed. And the base has an inset handle so that you can easily move the box around.
---
Cove uses recycled plastic for the majority of it's components and is designed to last a lifetime. We also partner with hundreds of shelters in the US so that we can easily facilitate the donation and transportation of litter boxes when they are ready to be recycled and reused.
Optional "Shelter" Wall Extender Add-on
Cove's default wall height is 6". Based on our cat behavior research, this was the ideal height to allow all cats to safely get inside. However - we recognize that some cats are high pee-ers or active diggers, so we developed a beautiful, optional add-on called "Shelter" for $20 that can easily be put on and taken off, and extends the wall height to 14".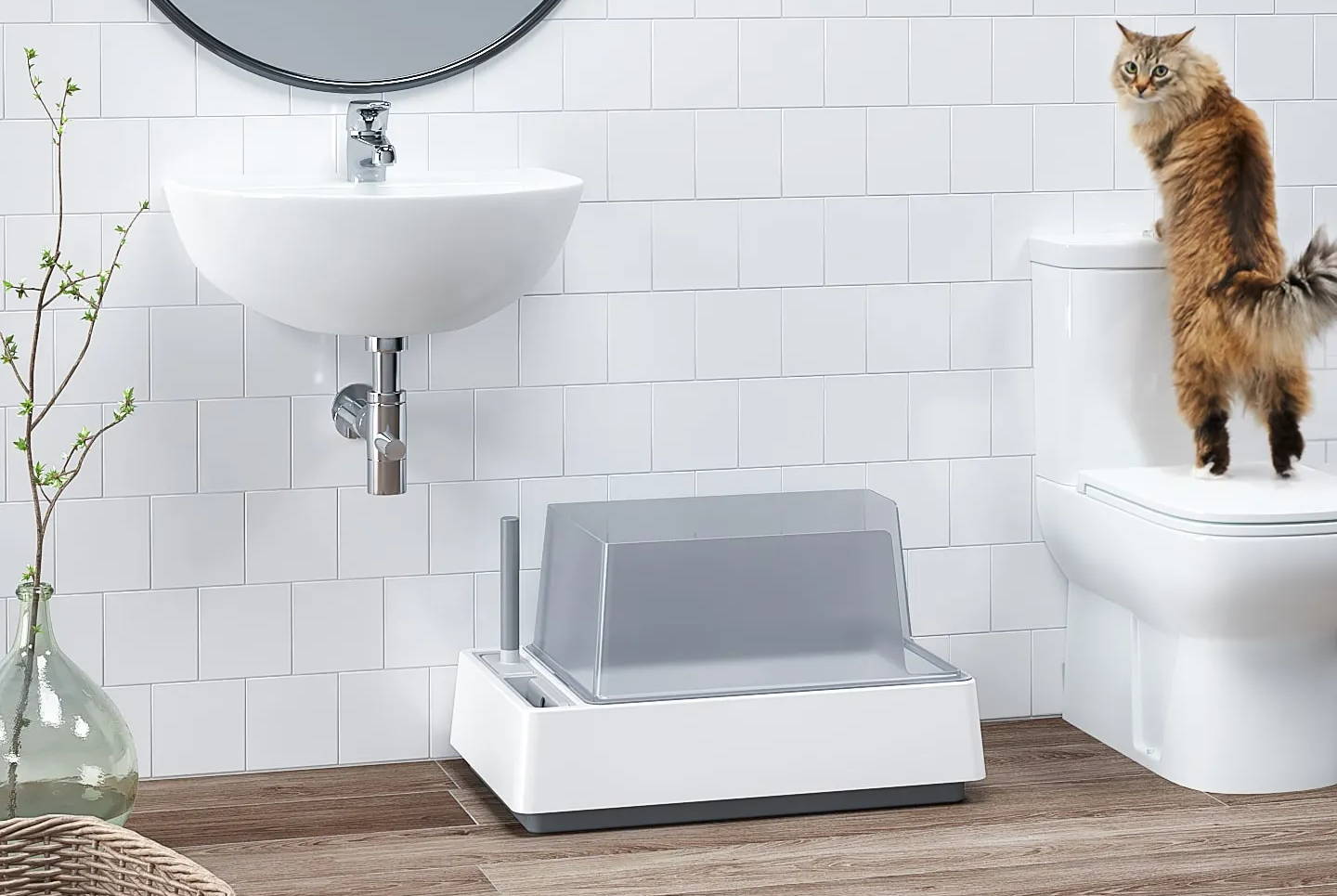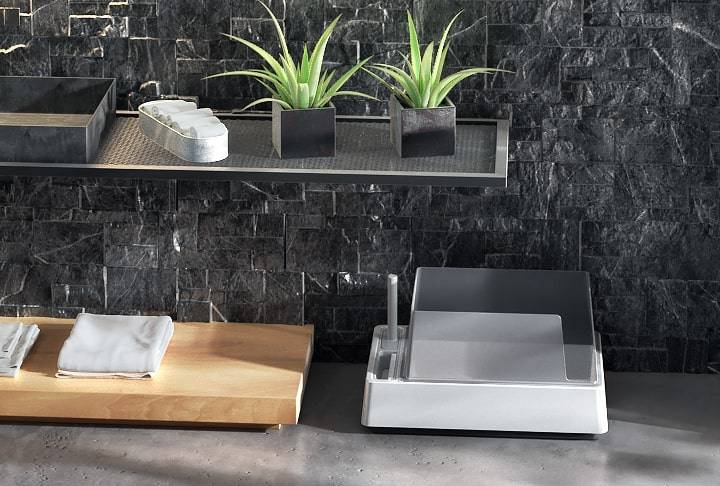 Preorder available today at the limited price of $129
Watch the story behind the Cove litter box:
Cove is the perfect size.
The dimensions of the box are 24" x 16" x 6". The sizing will work for all except very large cats (i.e. Maine Coons or 20 pound+ cats).

After lots of research, we decided on internal dimensions of 14" x 20" which gives the cat more than enough room to do their business without being unnecessarily large. The walls are 6" high - this is the height our cat behaviorist recommended because it allows for all cats to get in and out safely while being able to view potential threats (very important for cats). If you need a higher wall, we are offering an optional add-on ("Shelter") that will increase the wall height to 14".
Here is Cove beside a competitor litter box brand "Giant (XL)" and "Large" sizes. As you can see - the competitor's have a smaller base but slope outwards to appear larger. Cove actually holds more volume than their XL size, and our vertical walls are much better than sloping walls at preventing litter scatter from coming outside the box.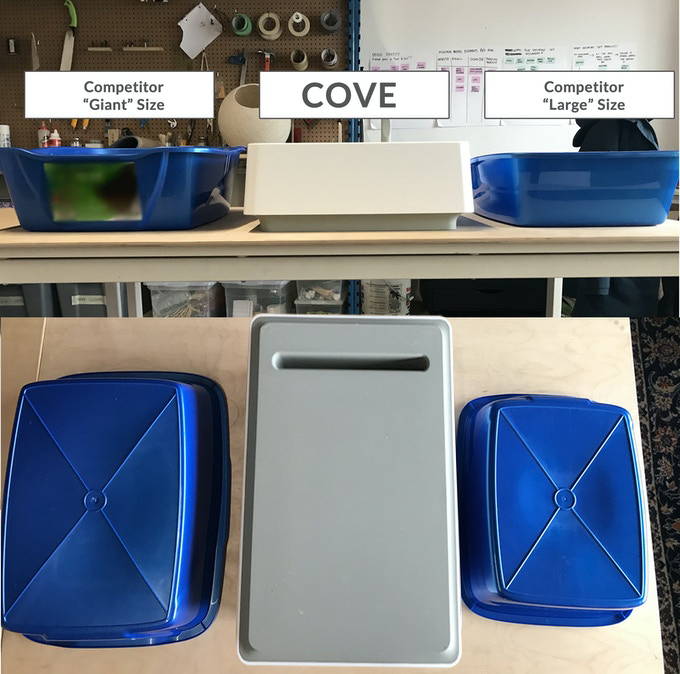 Cove's vertical walls are much better at preventing litter scatter than sloping walls.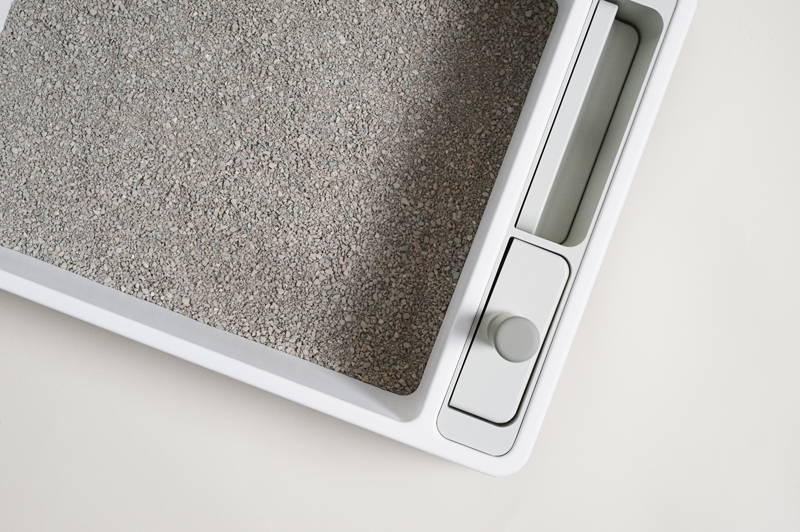 Cats and their humans love us.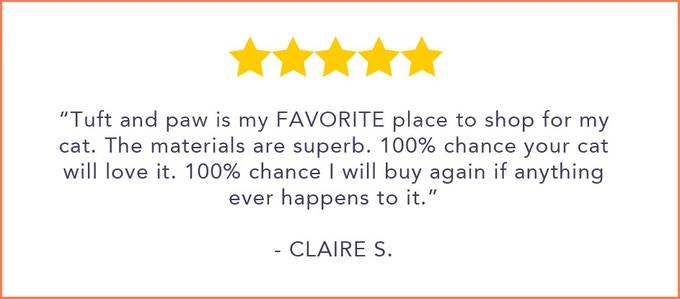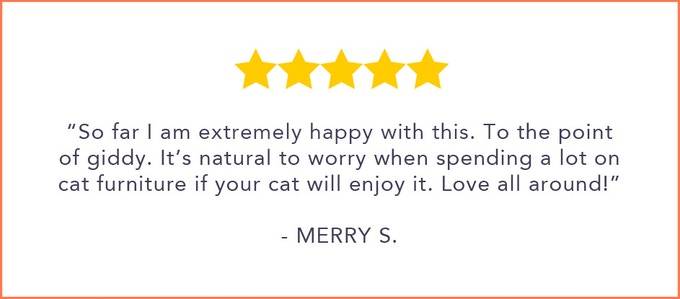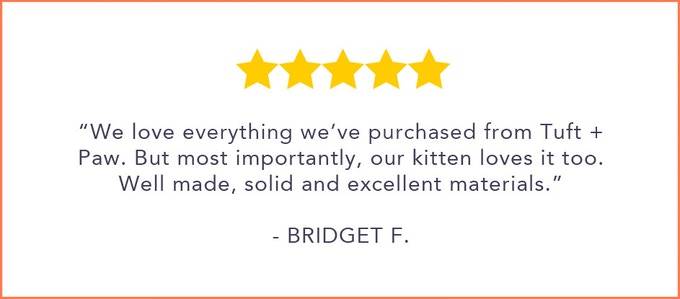 Preorder available today at the limited price of $129
Cove is $129 and it's made by furniture designers - everything is high quality and we didn't skip out on any details. It's made with a thick, slightly textured, double-walled matte plastic. It feels incredibly sturdy and is truly a beautiful object to have in your home.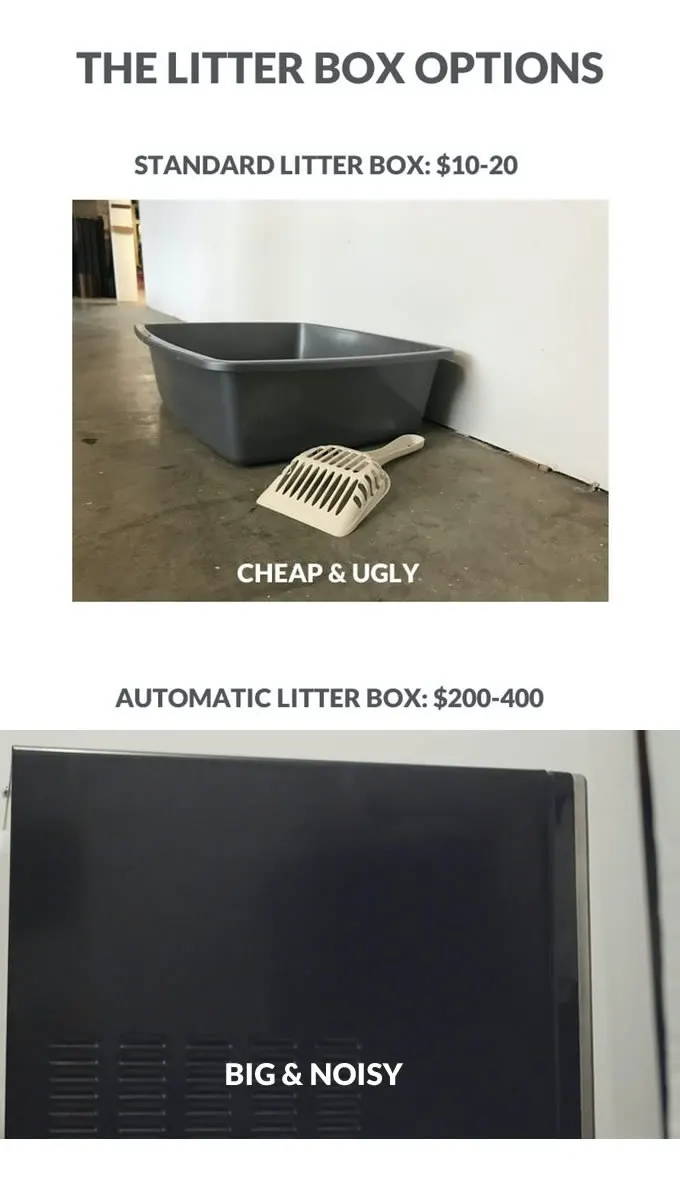 Many companies view a litter box as the equivalent to a trash can, so they put out the cheapest, ugliest product possible. We view it as something important that will be displayed in your home and we designed it using that assumption.
Includes all the tools you need to get the job done.
One thing we found during our research was that the litterbox tools are as important to user satisfaction as the box itself. Yet, most litterboxes include, as an afterthought, a cheap flimsy scoop that ends up just being tossed on the floor beside the box. Another common user frustration is the litter scatter caused by a cat's coming and going.
So we thought – why not engineer a litterbox with well-integrated tools that address the realities of maintaining a litterbox? The Cove includes a scoop, dustpan, and hand brush that fit perfectly into an accessible top compartment.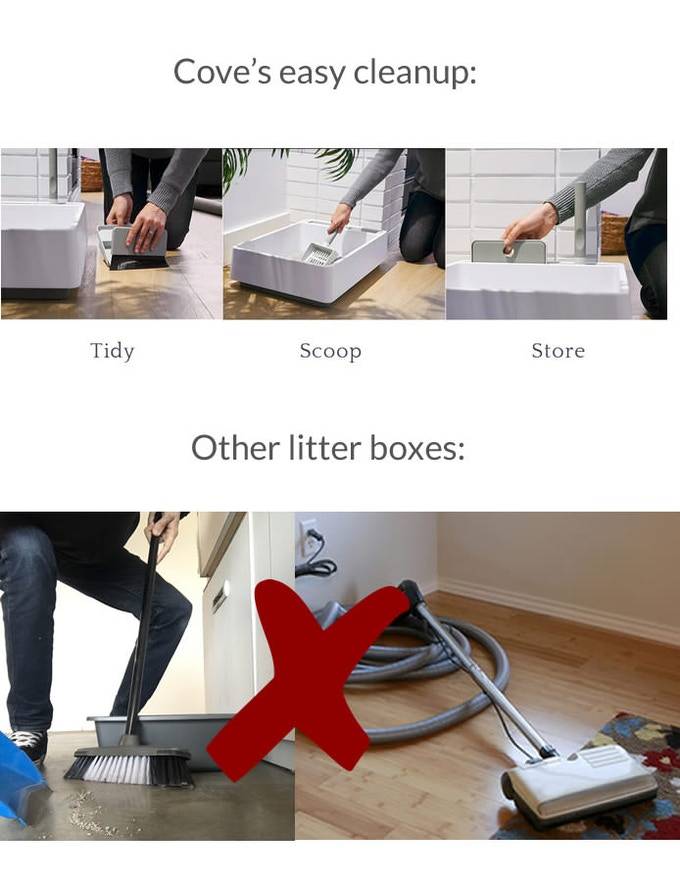 After in depth user research, we discovered the most important feature of a litterbox is that it should be easy to clean. Yet many litterboxes have shapes and materials that don't align with this. Cove's shape is incredibly simple and open - there are no unnecessary bends or hard-to-get-to corners. For the material itself, we considered a variety of options, but ultimately landed on recycled plastic because it's durable and especially easy to clean.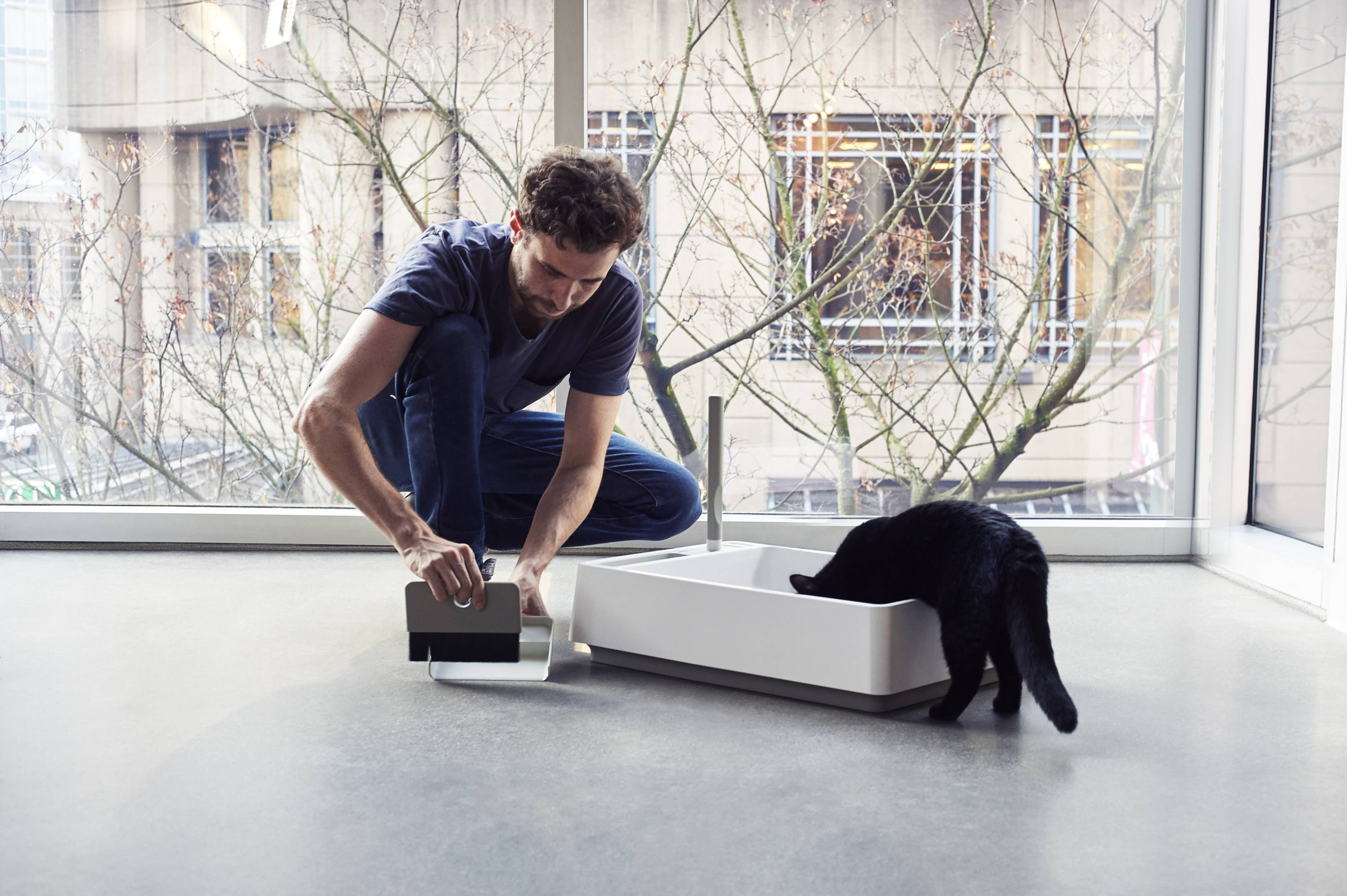 Faster scooping for the win.
Fancy litter box designers want to replace the scoop, but doing so introduces new complications. So we decided to make scooping faster. Our scoop is sturdy, and engineered with angled slots to make litter sifting as fast and minimal as possible. The handle and grip feel great in your hands, and it all slides easily back into the box for safe keeping.
Environmentally Conscious.
The last thing we want to do is create more plastic waste - so we're using recycled plastic to make Cove - it is completely toxin-free so it's good for our planet and our pets.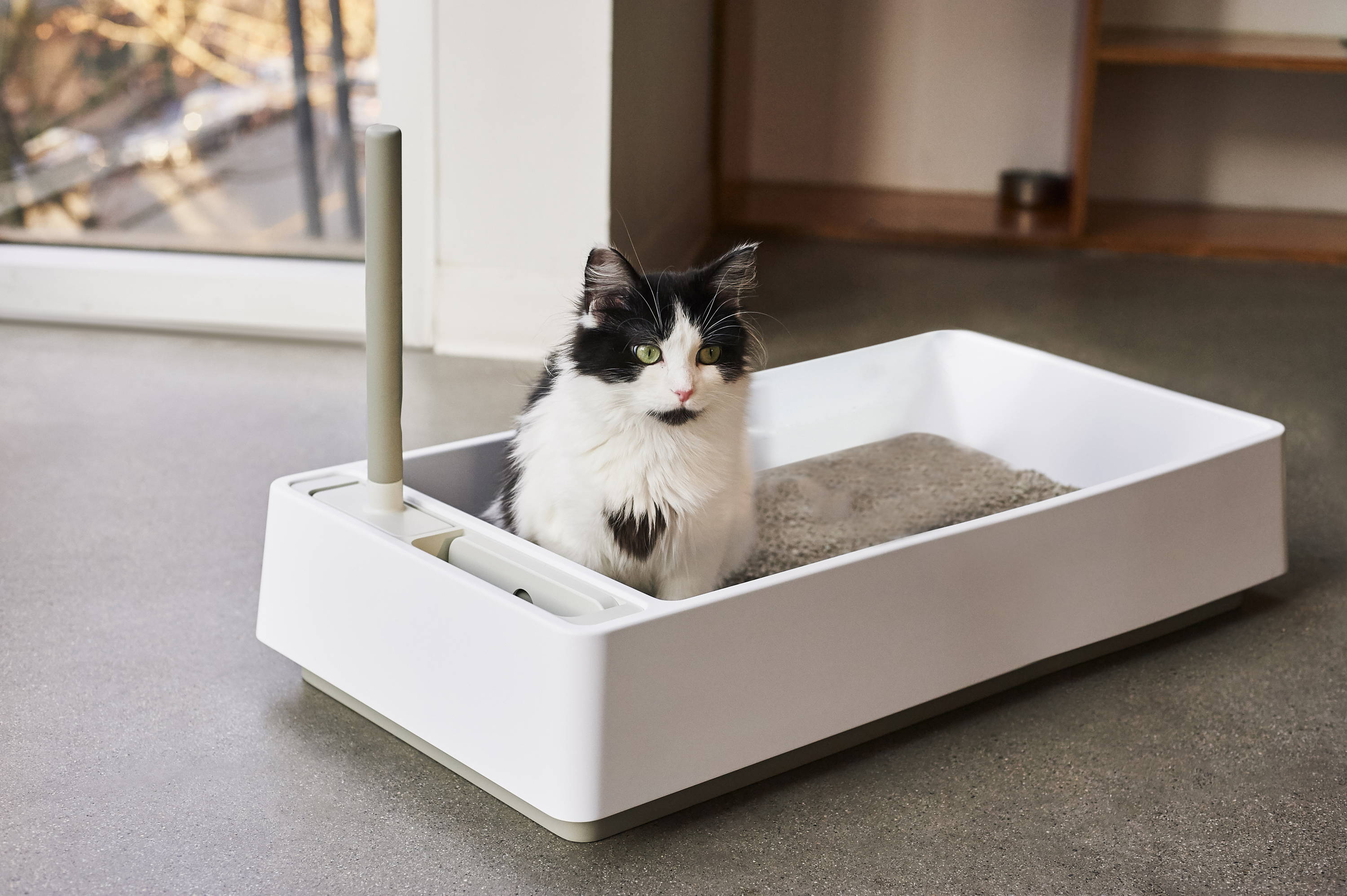 Built by a team of cat lovers.
We're obsessed with cats and we feel we're the perfect team to launch this product. Over the past 18 months, we've developed countless iterations with constant improvements – we've explored a ton of options. Now we have the final product ready to go and we believe it's the most beautiful litterbox in the world.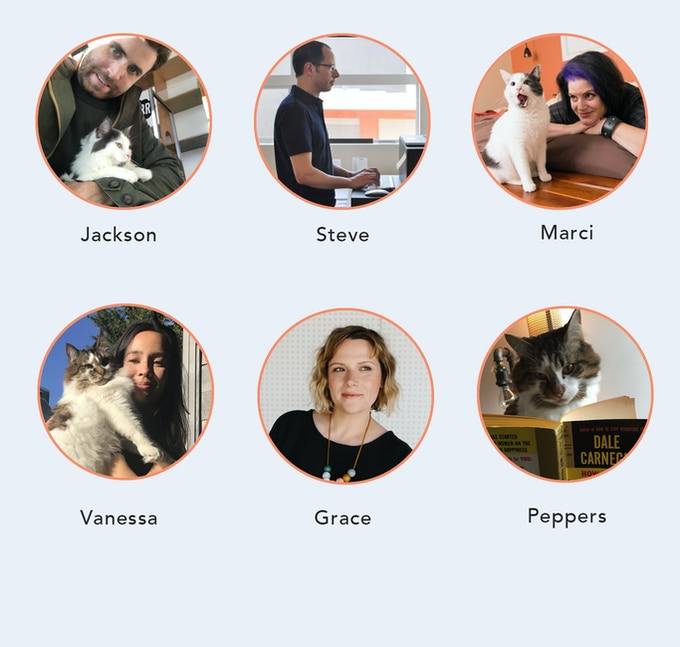 Preorder available today at the limited price of $129