10 Best Cat Scratching Posts of 2022 (so far)
Choosing the best scratching post for your cat usually means sifting through reviews, figuring out what type of surface your cat loves to scratch and also deciding what scratching post fits best in your home. 
Here at tuft + paw, we are cat experts. We're intimately familiar with features that are most important to cats, like sturdiness and scratching materials. We searched through dozens of cat scratching posts and found ten different scratching posts that are great for a variety of homes, cats and styles. We also spoke to actual cat and cat furniture experts to do some of the work for you. 
Indoor cats don't usually have trees and rocks to satisfy their scratching instincts on. That's why most cat owners provide scratching posts to their feline friends. Megan Tieber, our resident veterinarian, knows exactly why scratching posts are important for indoor cats:
"Scratching is a natural instinct for cats--it allows them to stretch, mark their territory, and wear down sharp claws. Scratching posts that are placed in key areas around the home provide environmental enrichment for cats."
With the right scratching post, your cat will choose the post over your favorite piece of furniture. We divided our top picks into five key categories:
Be sure to continue reading after we list our winners. We interviewed cat veterinarians, cat behaviorists, and product designers on what features are most important to look for when purchasing a scratching post after we list our top picks.
Without further ado, let's get started!
Best Overall Scratching Post
This scratching post is an instant classic. With its vertical design and 3ft height, cats will love to stretch and scratch this post. This post is also wrapped in natural sisal fabric, one of the most desirable materials for scratching posts. In addition, the Zip Scratching Post has a base of real birch. 
Pros
Cons
Sisal Fabric:

Sisal fabric is a favorite among cats. It's highly durable and has a texture that they love. It's a great material for a scratching post. 





Price: This cost is a bit higher than you might have spent on a scratching post before, but with sisal, this scratching post will last for years.

Vertical Design:

For a cat that loves to stretch upwards, vertical scratching posts are great for cats.

Size:

3ft is a good size for most cats, but if you cat loves to jump and stretch even higher, than a taller post might be necessary.

Natural Materials:

No more synthetics and shedding carpet, this scratching post was created using natural materials.
Runner Up
Vertical Wall Mounted Sisal Pole - $199 
As a runner-up selection, this wall mounted scratching post is a great option. Not only is it tall, but it saves floor space by being wall mounted. With sisal rope and standing platforms, this scratching post is a great option for cats. 
Pros
Cons
Sisal Material:

Sisal rope is an amazing texture for cats. It's also highly durable.

Wall Mounted: If you're hoping to avoid drilling into your walls, this may not be a great option for you.

Saves Floor Space:

Since it's wall mounted, it saves valuable floor space.
Best Modern Scratching Post
The Tab Scratching Post is quite the rarity. It happens to have a felt scratching surface, but still looks extremely modern. With an aluminum frame and a design that sits flush with the fall, this scratching post will blend right into your modern decor. Because of this modern design, you can mount the scratching post in whatever direction you choose. 
Pros
Cons
Attractive Felt Surface:

If your cat loves carpet above all else, this felt scratching surface is perfect for them.

Wall Mounted: Again, if drilling into your wall isn't something you want to do, this might not be the scratching post for your home.

Modern Design:

This design is as modern as it gets. With round curves and a polished frame, this design will impress both you and your cat.

Cost:

Durable materials means an increased cost.

Durable Materials:

The felt needn't be replaced anytime soon, this fabric is durable.
Runner Up
This scratching post is a modern shape with great features. Not only can you choose what type of scratching material you want to wrap the cone with, it also features a cubby hole for sleeping. You can customize this scratching post with different accent colors and it's easy to transport around with a carrying loop. 
| | |
| --- | --- |
| Pros | Cons |
| Choose Your Material: Both sisal and felt are options for you to choose. | Space: Since this scratching post has a base to sleep in, it takes up a bit more room than others. |
| Custom: Customize The Cone to your space. Choose your accent colors!  | |
Best Budget Scratching Post
Happy Pet Scratching Post - $30
This is as simple as it gets. This scratching post is wrapped in rope for a durable scratching area. Its simple look and textures create a streamlined scratching post that's post useful and aesthetically pleasing. What's the best part? The price.
| | |
| --- | --- |
| Pros | Cons |
| Price: This scratching post is very inexpensive. That's why it's our best budget pick!  | Traditional: If you want a more modern cat scratcher, look elsewhere. This one is more traditional. |
| Materials: Durable natural rope makes this scratching post last a long while.  |   |
| Simplicity: If simplicity is your thing, this scratching post is perfect for you. It's all about the basics. | |
Runner Up
You don't see a ton wood scratching boards, but here one is! This smaller, unique scratching post is a great horizontal scratcher for cats. Made completely of pine, this scratcher is great for cats that prefer a scratching incline rather than a vertical stretch. 
| | |
| --- | --- |
| Pros | Cons |
| All Wood: Since this scratcher is all wood, it's extremely durable. It's also good for cats that prefer scratching on wood materials, like door frames. | Material: If your cat does not prefer wood, this isn't the right scratcher for them.  |
| Inclined: Rather than a scratcher that's parallel with the floor, this scratcher has a nice incline.  | |
Best Horizontal Scratching Post
Approved by cats everywhere, this scratching board offers a desirable scratching fabric and a horizontal structure. Cats can easily scratch on this board if it's flat on the floor, or you can prop it up against other structures if needed. It's versatility makes this scratching board great for many cats.   
Pros
Cons

Horizontal: For cats that prefer the horizontal scratching experience, this flat board is perfect for them.

Flat: This scratching post sits flush to the floor. This might work for some cats, but not for others. Luckily it's easy to prop the board up onto other surfaces.

Real Wood: The real wood structure means this scratching board is built to last.

Preferred Scratching Fabric:

This scratching fabric was chosen by cats the most when it was tested. That increases the likelihood your cat will love it too.
Runner Up
The Lato Horizontal Scratching Post is elevated off the ground in order to provide cats with a comfortable position for scratching. The post looks elegant enough to blend in with other modern interiors.
Pros
Cons

Sisal Fabric: As we all know by now, sisal is all supreme for scratching posts. 

Takes Up Space: Because it's horizontal, it'll take up more floor space than other types of scratching posts.

Real Wood:

Made from real birch wood, this scratching post is both beautiful and sturdy.
Most Unique Cat Tree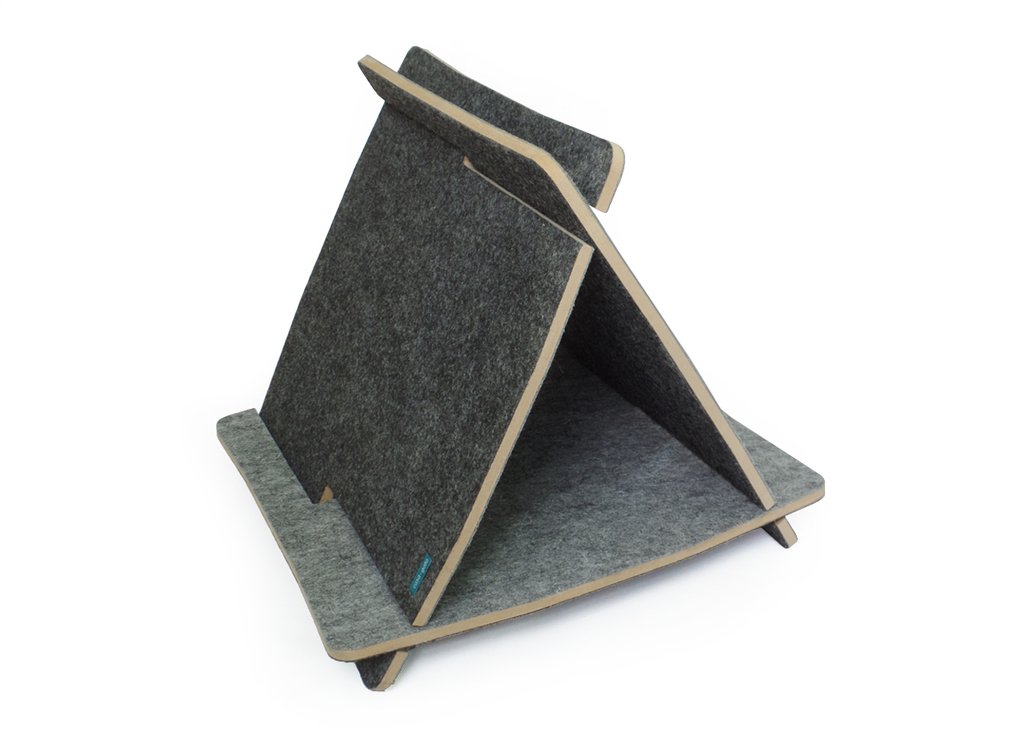 Created using MDF sheets and scratching felt, this scratching post is less of a post and more of a scratching house. Cats can lounge inside of it as well as scratch on each side of the house. It's simple to set up and requires very little assembly. This unique look will be sure to impress both the human and the cat. 
Pros
Cons
Unique:

It's house shape gives this scratching post a unique look. If you're tired of the traditional post, this scratching cabin is for you.

Small: This scratching cabin is on the smaller side, so may not be great for larger cats. 

Sleeping Space:

Because this is a scratching cabin, there's a small space for cats to sleep in.

Inconvenient:

Unfortunately, it's hard to get unless you're located in Brazil

Sturdy:

The MDF board means this cabin is as sturdy as it is light.
Runner Up
Phoenix Natural Scratching Post - $20-$50
If you want a scratching post that's as natural as it gets, Phoenix Feline Furniture is the place to shop. These scratching posts are made from actual driftwood, so each one is unique.
Pros
Cons
Natural:

If you want an actual natural material in your home, look no further. This driftwood is as natural as it gets.

Each One is Different: Like I said before, because each one is different, there is no standardization. Each one you buy will be very different.

Unique:

Because it's driftwood, each one is unique.
That's wraps up our top 10 scratching posts of 2019. But it's always good to understand more about the products you're purchasing...
Why Cats Need Scratching Posts
Cats love to scratch, it's a basic instinct! Without something to scratch on, you'll find your cat scratching walls, door frames and even furniture. That's why scratching posts are so important for your home. 
Let's take a look at the reasons why scratching posts are important to cats. 
Nail Upkeep
If you've ever been on the receiving end of a cat scratch, you know that cats have both long and sharp nails. Sure, you can try and trim them, but unless you have a really patient cat that can be difficult. 
That's where scratching posts come in. Scratching posts naturally allow cats to wear down their nails, keeping them healthy. 
Stretching
Tall, vertical posts are great for stretching. If you observe your cat reaching up to scratch surfaces, that might mean they want a little extra stretching in their lives. According to Live Science, cats stretch because it feels good, but also increases blood flow after hours of sleeping. 
Both are great reasons to provide scratching posts for your cats. 
Natural Instinct
Last, cats just love to scratch. Our veterinarian Megan Teiber has the lowdown on what might be causing them to scratch on your beloved couch and why scratching posts are important to own:
"[Scratching posts] dissuades them from clawing at furniture and other undesirable behavior, which typically occurs when an environment is not properly enriched for their needs." 
If a cat is feeling bored, it'll start scratching. 
Cat Scratching Post Features
Next, let's talk about the most important features to consider when shopping for a scratching post. To do this, I spoke to Tuft + Paw's designer and engineer Steve Suchy and he gave me a list of features he considers when designing a scratching post. 
Material
According to Suchy, a scratching post material "need[s] to be able to be worn without totally unravelling." There are a few materials that satisfy these materials, sisal fabric and sisal rope being two of them. 
Additionally, some cats enjoy carpet, but those scratching posts tend to wear and fray very easily. Other materials include wood or cardboard, which can both be good materials depending on your situation. Wood last longer, but cardboard scratchers are usually inexpensive and easy to replace. 
Horizontal vs Vertical Scratching Posts
Though scratching posts are usually vertical, not all cats like to scratch upwards. Instead, they love to scratch on horizontal surfaces. It's important that before you purchase a scratching post, you spend some time observing your cat in order to discover what the best arrangement is for your scratching post. 
FAQ Section
When should my scratching post be replaced? 
Scratching posts should be replaced when the material is worn, fraying and damaged. If the scratching post is no longer appealing to the cat, that might me a replacement is necessary. 
How do I clean my scratching post? 
A vacuum, fresh air and sunlight can work wonders on a scratching post. If a scratching post is made of carpet, spot cleaning may be necessary. Sisal and other rope scratching post most likely will not need to be cleaned. 
How do I teach my cat to use their scratching post? 
Feliway and catnip are good teaching tools, usually. In addition, place scratching posts near the areas your cat usually likes to scratch. If you hide the scratching surface away, it won't get used. 
What is the best scratching post material? 
The answer truly depends on both you and your cat. If your cat isn't using their scratching post, try a different material. Sisal is typically a favorite though for both its texture and durability. 
--
We hope you found these tips useful! Let us know if we missed any of your favorite scratching posts. If you're looking for something a little bigger, be sure to check out our guide to the best cat trees.
p.s. Have you tried Really Great Cat Litter? Our flushable formula is 99% dust-free, low tracking, ultra absorbent, clumping, and eliminates odor on the spot.