"By far the best litter box I've ever owned!"
This simple, beautiful, redesigned version of the classic litter box features an integrated scoop, dustpan, and handbrush. Extra high walls means less mess. Free shipping + 90 day returns.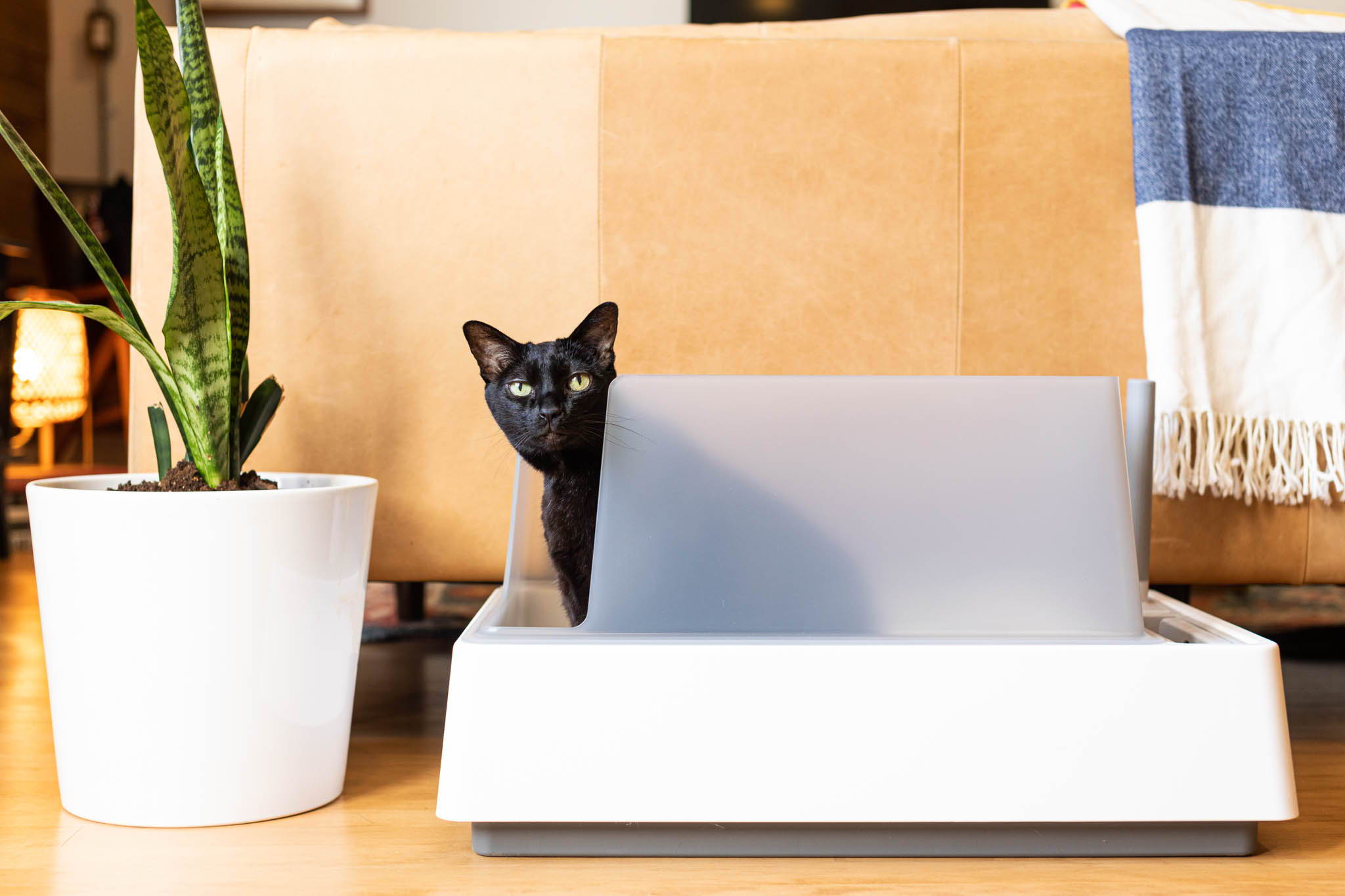 Join Thousands of Happy Customers

I bought another one for my mom
"We LOVE our Cove litter box! Prior to getting the Cove, litter was all over the place and had to cover every side with a litter mat. Now, Noir tucks herself in the corner to do her business, and clean up is easy! We love it so much, I bought one for her mom and her two new kittens and they love it too! We foster kittens for adoption, and the Cove has been helpful in ***** training the little kittens! We highly recommend the Cove!! 😻"

I can't believe how excited I am about this litter box. A+++
I can't believe how excited I am about this litter box, but this thing is just so, so, so good. I could not wait to write a review, and have been basically proselytizing since it arrived. My kitty is very picky about litter boxes, and refuses to use covered ones. She took to this box immediately, and I am just STUNNED by how much better it is than the many other litter boxes I have owned in the past. The material seems to be magic -- there is minimal sticking to the bottom and sides of the box, nothing sticks to the scoop, and her claws seem not to leave a mark on the box. It is remarkable -- I used to spend a lot of time scraping the bottom of her previous box (a box I thought was top-of-the-line), but no more. There is also minimal litter around the box after she's used it -- she was such an aggressive digger that a lot of the problem with her old box was that it skidded around while she was in it and litter went everywhere. This thing stays put and the walls keep the litter inside. This thing is amazing, so easy to clean, and my cat loves it. A+++++.

I know it may seem absurd to spend this much on a litter box, but I think this thing will last a long time; and given how much use the litter box gets, I think this is a wise investment.

By far the best litter box I've ever owned!
I ordered this litter box from Kickstart and though it was a little pricey, it is by far the best litter box I've ever owned! It is sturdy and easy to clean, and my four cats prefer to use it over the other boxes we have. The high wall prevents litter from spilling out onto the floor, a very nice detail which saves on cleanup time. I would definitely repurchase this product again.

We just received the cove litter box (plus shelter) and I might say that is absolutely gorgeous! My both kitties started using it right away, and the style just adds on to our house. The shelter is high enough to prevent most of the litter to come out of the box (I have a digger here!), which was a constant issue with the other litter boxes. The sturdiness is also a plus for my 18lb kitty boy! No more wobbling when doing his own business ;)

Excellent purchase despite cost
Excellent purchase even though we raised high eyebrows over the cost. The materials used has a smooth high end texture and the guard purchased with the box fits in a way that when your cat aims high it doesn't go into the crack where it fits, it stays inside the box (that is huge for us as we have a cat that always aims high making clean up longer than it should be even with its guard). We use it as our second box and find both our felines prefer to use it more. (Maybe due to its a few inches larger and don't feel as pinned in?? No idea. Haha...maybe it has that new box smell...lol) We also love that its easier to clean/scoop the corners. Our other cat box indents in a little where they enter and its extremely difficult to scoop/clean.

Cove is a beautiful litter box that you don't need to hide.

The Cove Scoop features a comfort-grip handle and smooth corners for easy cleaning. When not in use, the brush and dustpan nest together with a slim profile for easy storage.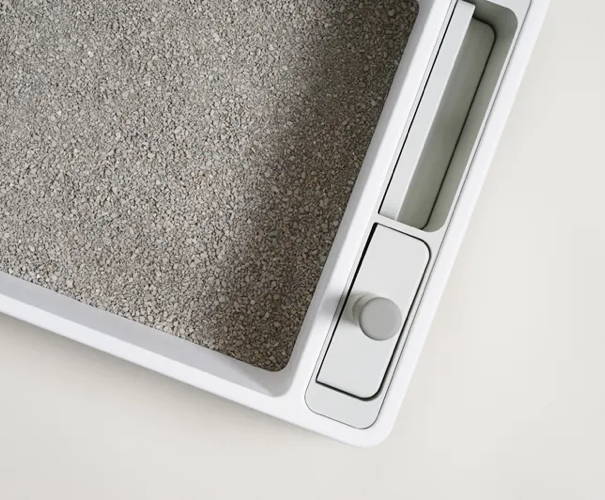 Designed by a team of cat loving furniture experts, you'll be delighted at all the small design details we obsessed over. The rubbery base keeps the box firmly rooted to the floor, the hidden handle on the bottom makes it easy to move, and the thick matte plastic gives a sturdy and quality feel.
The Cove is made out of thick matte plastic that's easy to wipe clean and feels exceptionally sturdy. Cleaning the litter box will never be your favorite chore, but you can make the best of it with the Cove (no liners necessary).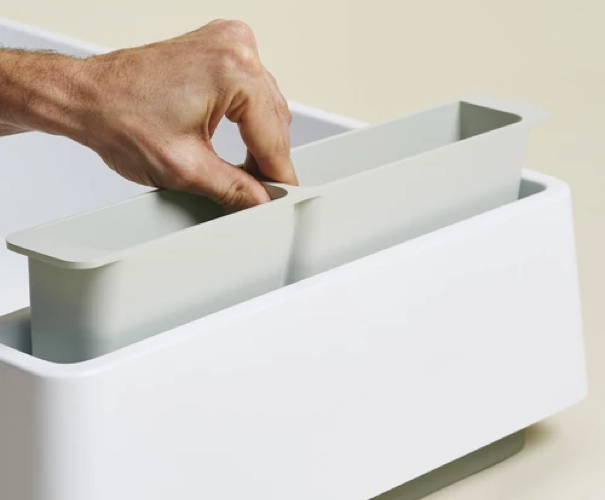 Shelter — Wall Extender Addon

The Shelter is an optional addon wall accessory, which adds an 8" partition around the litter box to keep litter and waste contained.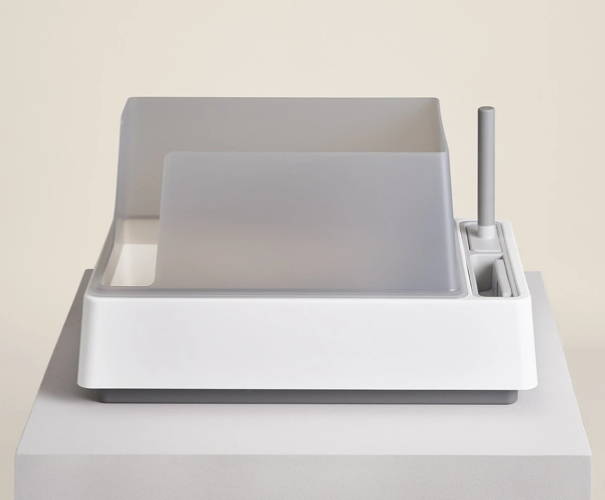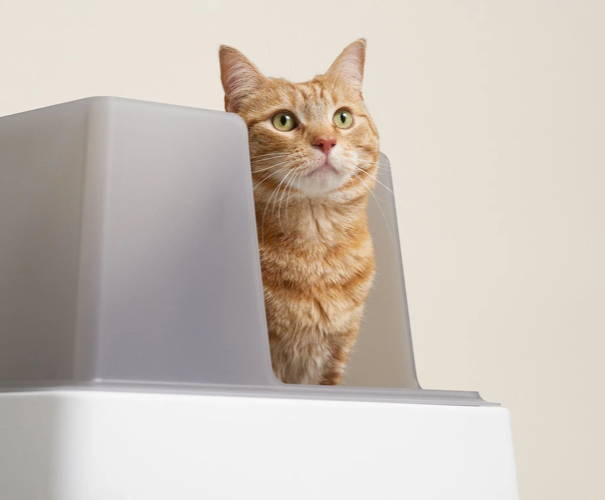 The Story Behind the Cove

Watch the story behind the cove and it's creation. This is our original Kickstarter video from 2019, and since then we've shipped tens of thousands of Coves to happy customers.

Cove's dimensions are: 16"W x 26"D x 6.5"H (Optional 8" Shelter add-on for more height). Litter area is 16"W x 22"D x 6"H. It fits large-sized cats or smaller (under 20 pounds). Modelled by Oscar, who weighs 12 pounds.